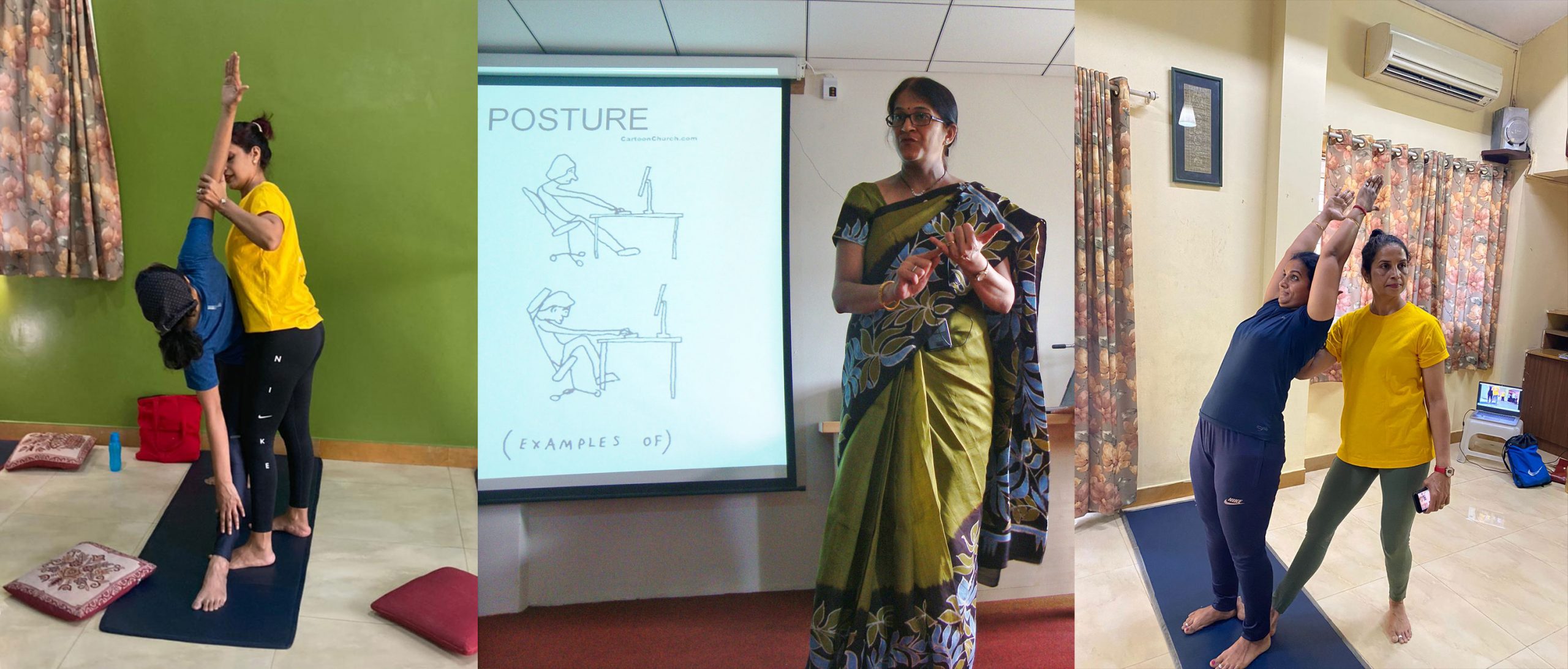 Hatha Yoga
Course Details:
This 4-month course is a profound experience that helps to establish a firm foundation of inner discipline. The Teachers Training Course (TTC) is an intensive and transformative experience. Our course is proven to be unique as it offers:
Strong, sound and scientific foundation
Holistic and balanced curriculum
Curriculum:
History and philosophy of yoga: Different paths of yoga as described in Bhagwad Geeta and the Yoga-Sutra are taught and discussed. The latter is one of the most important texts and a foundation for Yoga Philosophy. A study of these texts is necessary because it is relevant even today to the extent that the philosophy contains solutions to modern-day needs of mind management too.
Anatomy and physiology of yogic practices:  This module of the course is an introduction to human body and systems. They are learnt with reference to yogic practices. More specifically, the respiratory, musculo-skeletal and nervous systems are studied with an aim to understand the effects of asana and Pranayam on major body systems.
The effect of diet, fasting and nutrition on our health will be touched upon too.
Asana : Through the four months, you will receive practical and theoretical training in yoga postures. The all-important alignments and postural physiology with reference to asana are an important aspect of these sessions. Through use of props, you will also learn how to modify and adapt postures to the needs of your future students.
Among other asanas, you will learn how to teach Surya Namaskar.
Pranayam and other techniques: Yogic breathing practices play a major role in the holistic health of a human being. The theory and practical Pranayam techniques are taught with reference to the impact on human anatomy and physiology.
Included in this module this module are also various other techniques such as kriyas, relaxation techniques, chanting, mudras, introduction to meditation.
Teaching Skills : Teaching is very different from practicing. You will learn the appropriate approach, attitude and mindset to be an effective teacher. You will also receive class management and session planning skills.
Yoga Application : Through a topic of your choice, you will work on deepening your understanding of Yoga theory, philosophy and practice as applied to that topic. In the past, students have worked on topics such as Yoga for mountaineers, Yoga for kids, and Yoga during menstruation. This can be your chance to apply Yoga to your passion.
Students will have ample opportunity for self-practice and practice teaching skills.
Elligibility
A sincere desire to learn and openness to yogic techniques is a pre-requisite; a basic knowledge of yoga postures and philosophy is preferred, but not essential.
This course has best served those who want to understand Yoga better and deeper.
Classroom lectures
Asana practice under guidance
Project preparation
Teaching practice under supervision
learning through observation of classes
Written exam, written assignments, teaching skills, self practice, Project presentation, viva
Fees: The course donation includes the tuition fees, reading material and examination fees. Contact our office for further details on course dates and fees.
Param Yoga has been a life changing experience for me.. Lovely journey with Param until now.. Joined around a year ago, initially just for a trail, I was not sure if I would continue. I am not that disciplined and never exercised. But the team here is just awesome. They not only made me love this art but also got me addicted to it. Excellent support from the entire team and they are very warm people. I think I am staying here forever… Just loving the journey…

I had put on weight and in spite of lot of diets couldn't lose a single gram. On joining Param Yoga weight I lost approx. 2 kgs and a few inches in barely 2 months. The diet was simple to follow, and training sessions were very effective. Along with weight loss sessions various other tips were shared regarding posture, breathing etc. that can be followed during the day. Overall a very great experience.

Yoga for me is a journey to my Self. It all began with the focus on physical asanas but gradually through the practice I started to notice, awareness has expanded greatly. From observing the breath while holding the posture to observing and experiencing life in the very present moment. So, then I realized, it's a constant transformation of Self-being that goes far beyond the yoga classroom. I continue discovering great qualities, joy, and blessings through yoga practice. I feel myself in the infinite depth to the teachers who across my way and share their knowledge and experience. Thankyou from the bottom of my heart.

I, Kirti Rajesh Chaudhari, joined Param Yoga Institute in Dec 2015 and continued till March 2016. Before I had problems like a) after riding my bike for half an hour, my neck and back pained, b) neck pain due to exertion, c) irregular periods. After joining this institute, I became free from all these problems and feel better now. Also, I lost 12kgs in 3.5months. All the teachers and staff of the institute are friendly, loving and help us when we need their support.

It's been two months my energy and flexibility level has increased drastically. In the last 43 years I had never thought that I would look forward to doing exercise. I must say I've enjoyed each and every class. BIG THANKS to dear instructors for making me like my soul and body. It's painful to shed off weight as one takes lot of physical and psychological efforts to gain it. So, it's not just loosing weight but it's also letting off the rigidity. I am learning that too here. The programme is so well designed for the body and mind as well. I am enjoying every bit of it, even during certain physical condition in a month and that is awesome. I am learning to take care of me with more flexibility in thinking and action. Thank you all..

Param Yoga's weight loss programme has helped me to lose my weight and gain more confidence. Its a perfect combination of diet and exercise has done wonders to me and has helped me to maintain a healthy, fit and slim lifestyle. Thank you Param Yoga.

Learned the art of losing weight and maintaining it, that too in a healthy way. Complete diet, different workout every day with a different teacher, with a different style but with the same attitude. No chance of getting bored. All I had to do was show up every day and follow the awesome "Bosky's Diet". Rest happened on its own i.e. I lost 18kgs in 6 months. I can feel the fitness and freshness from within.

Hi Guys.. I joined Param Yoga a year ago not knowing what to expect just started working out. It was my very first encounter with Yoga in my life. Kept only one thing in mind that I have to stay fit or rather become fit. As days passed I saw and felt small changes in myself physically and mentally. Instructors motivated me continuously and boosted me to do my best. The weighing scale showed my hard work and having well trained instructors showed the results through my weight loss, MAJOR weight loss.To support my weight loss along with yoga, complimented the right diet given to me by the dietician as per my body and personal food habits in mind. I am now addicted to yoga and its been a great life changing new year at the institute here at Param. I not only feel but see a drastic change in me overall. Thank you Param Yoga for bringing about this positive change in me.